Posted by Le Boudoir Gourmand on February 9th, 2016 . Filed under:
Crêpes / Galettes / Gaufres / Beignets / Recettes de Chandeleur / Recettes de Mardi Gras
.
Cette année pour Mardi Gras direction Hawaï !! Vous avez déjà eu les cronuts et les donuts américains, les fritelle con uvetta et les struffoli italiens, les bottereaux nantais et les croustillons emblématiques du Nord, du coup aujourd'hui nouvelle destination, avec les malasadas ! Une recette importée par les portugais de Madère et des Açores et devenue un incontournable de la cuisine hawaïenne pour Mardi Gras.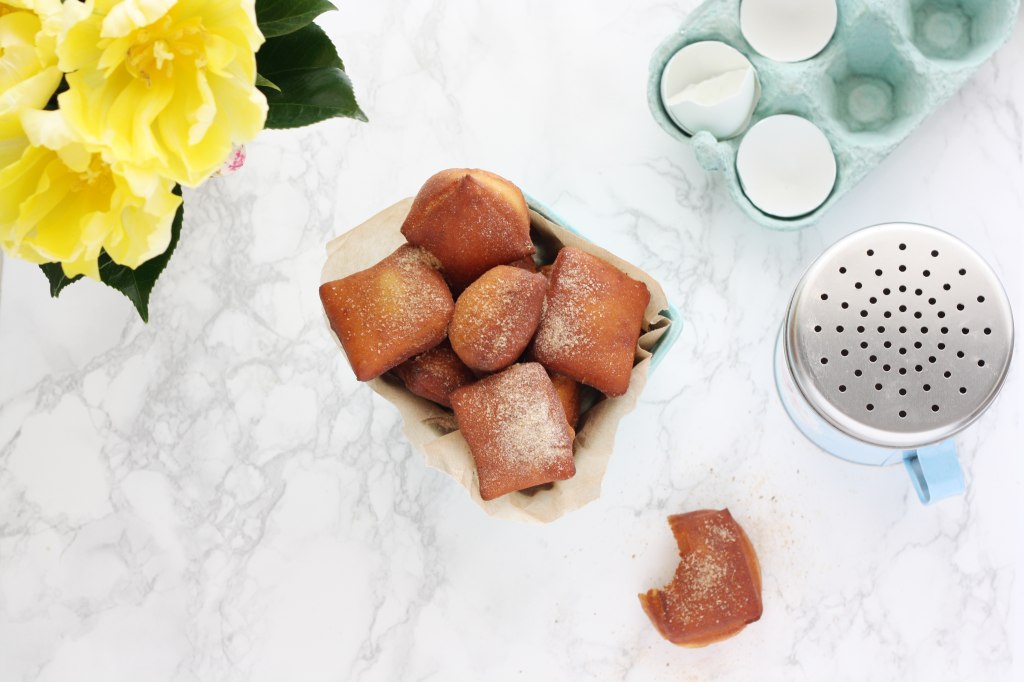 La recette est un peu longue, la pâte demande du temps de repos pour que les beignets soient bien dodus et parfaits mais ça vaut le coup de patienter je vous promets ;-)
Une recette extraite du livre Doughnuts: simple and delicious recipes to make at home de Lara Ferroni. J'ai conservé dans ma traduction de la recette, les mesures en cuillères et cups si vous n'avez pas d'ustensiles de mesure américains vous pouvez trouver des tableaux de correspondance sur le net.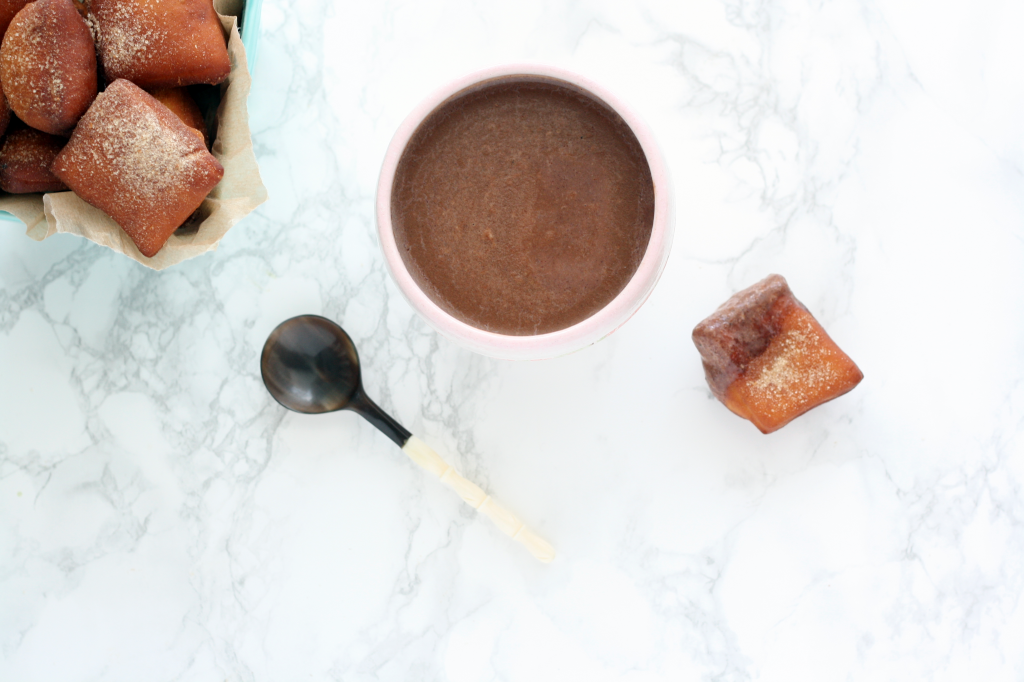 Ingrédients :
2 cuillères à soupe d'eau tiède
1 cuillère à soupe de levure de boulanger déshydratée
1/2 cup de sucre fin
3 œufs
2 cuillères à soupe de beurre fondu
1/2 cup de lait entier
1/2 cup de crème fraîche liquide entière
1 pincée de sel
3 à 4 cups de farine (à ajuster en fonction de la consistance de votre pâte)
Sucre et cannelle pour saupoudrer les beignets à la fin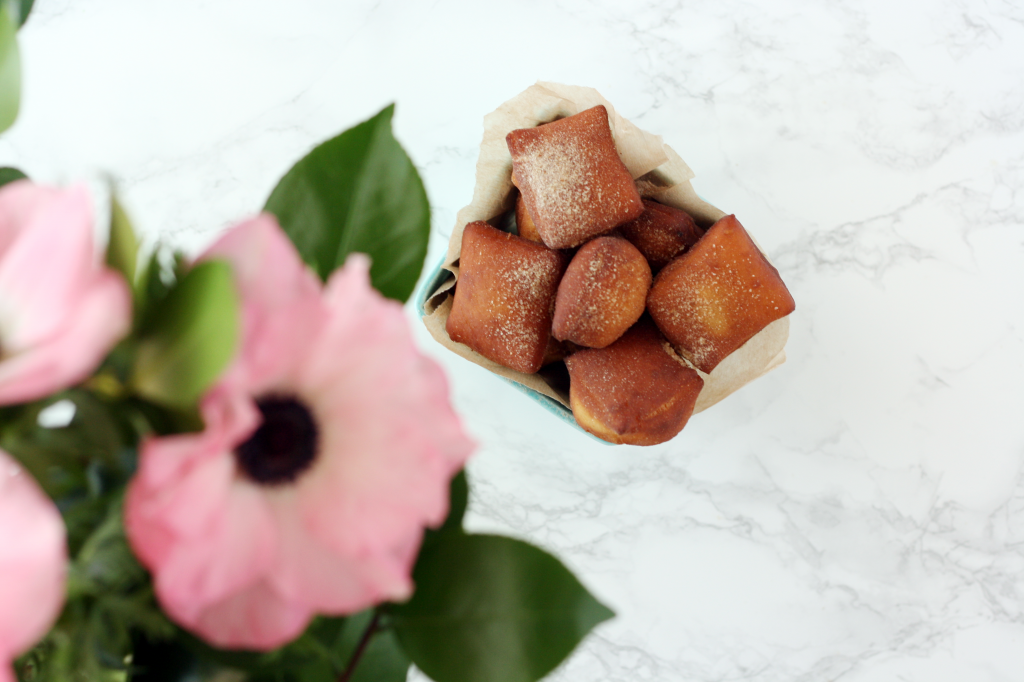 Dans un bol versez l'eau tiède, ajoutez la levure et une cuillère à café de sucre. Mélangez et laissez reposer 5 minutes, jusqu'à ce que l'ensemble mousse.
Dans la cuve d'un robot muni d'un fouet, fouettez les œufs jusqu'à ce qu'ils deviennent mousseux et aérés, ajoutez le mélange d'eau et de levure qui a reposé, le reste du sucre, le lait, la crème et le sel. Fouettez jusqu'à obtenir un mélange homogène.
Remplacez votre fouet par un crochet à pétrir (ou bien mélangez à la main à l'aide d'une cuillère en bois si vous n'avez pas de robot muni d'un crochet à pétrir) et ajoutez petit à petit la farine (1 cup à la fois). Attendez d'avoir bien incorporez vos premiers ajouts de farine avant d'ajouter le reste. Mélangez jusqu'à ce que la pâte se forme et se décolle des bords de la cuve de votre robot. La pâte doit être humide mais ne doit pas coller, ici j'ai mis 3 cups 1/2, lorsque vous avez ajouté les 3 cups ajoutez la dernière petit à petit pour voir si votre pâte a vraiment besoin de toute la quantité de farine ou non.
Couvrez votre pâton d'un film plastique et laissez le doubler de volume pendant 1h dans un endroit tiède. Puis retournez votre pâton et de nouveau laissez le doubler de volume 1h supplémentaire.
Sur un plan de travail fariné, déposez votre pâte et étalez la sur une épaisseur 1cm 1/2 puis coupez des carrés, des petits ou des grands selon la taille que vous souhaitez (vous pouvez choisir de fourrer vos malasadas du coup faites les plutôt grands).
Chauffez votre huile de friture à 170°, lorsqu'elle a atteint la bonne température, déposez votre morceaux de pâte dans l'huile, attention de ne pas en mettre trop en même temps, retournez les beignets régulièrement et retirez les dès qu'ils sont bien dorés sur les deux faces.
Déposez les malasadas sur un papier absorbant puis saupoudrez les de sucre et de cannelle ou ouvrez les pour les fourrer de confiture ou de crème. À dégustez tout chaud !
Aloha les amis moi je me replonge le nez dans ma montagne de beignets ^_^